Girly Checks has Cute Personal Checks for You.
Now in our 10th year of serving you, our loyal customers. We continue growing to include the most popular "name brand" check designs and, yes, even Disney®.
Personal checks are what you need and not only do you need them, but you want them to show off your style, flair, personality, and passions.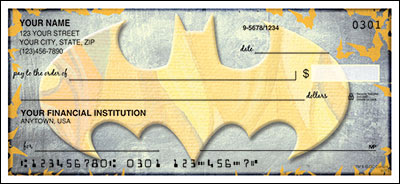 You are in the right place because GirlyChecks.com has a fabulous selection of cute checks, designer bank checks and accessories just for you - including the best assortment of Monogram Personal Checks anywhere. Popular and trending categories are Cause & Awareness, Dog/Puppy, Cat/Kitten and Horses & Western checks.
Special Feature: Get your superhero fix with the brain, beauty and brawn of these female heroines of DC Comics. You can also capture the powers of Batgirl, Catgirl, Wonder Woman and Supergirl in coordinating address labels, checkbook covers and mini-clutches.
---
With a collection of over 18,000 bank checks and supplies, from the cute, frilly, fun, trendy and cool checks to classic, cause-supporting and religious checks, Girly Checks is your one-stop shop for your checking account needs.
9,500+ Personal Check Designs


See the checks menu on the right for our full list.
-

350+ Licensed Artists' Checks


Artist-created Checks may just strike your fancy.

2,800+ Side Tear and Top Stub Checks


A variety of designs in Top Stub and Side Tear.

3,800+ Designer Checkbook Covers


Quality covers in leather, cloth & vinyl to keep it together.

6,300+ Matching Address Labels


Nearly every check design has a set of matching labels.

Checking Account Supplies


Deposit tickets, registers and ink stamps.

Or, if you don't need a special design...

Or, if you need Businss Checks...
---
Disney Frozen Checks

$21.99

This inspiring series is worth melting for! Join Princess Anna, Kristoff, Sven and Olaf as they ban together to break Queen Elsa's spell of eternal winter in Arendelle. Coordinating return address labels and checkbook cover are available.


Yes, it may be a "girl thing," but that's the way it is. Many of us girls like to share things that we love and things that we love to do - in different ways. We even like to share our interests by choosing the designs of the personal checks we write. And, why not? Why use those expensive and dreary bank-supplied checks when we can personalize our banking needs and save money all at the same time?
You will save yourself time and money by shopping right here for bank checks, deposit tickets, checkbook covers, ink stamps and other checking account accessories. You will also find low prices every day, typically 50% to 70% lower than what your bank charges - for the same types of printed check products.
Girly Checks displays over 21,900 checks and checking account supplies from all of the major manufacturers. We have made it easy for you to browse, or search for, nearly everything available because we have marketing affiliations for products from Artistic Checks, Bradford Exchange, Carousel Checks, CheckAdvantage, Check Gallery, Checks in the Mail, Checks on Sale, Checks Unlimited, Extra VAlue Checks, Identity Checks, Life Checks, Message Products, and Styles Checks.
Finding personal bank checks through Girly Checks is easy. If you have a specific check theme in mind just type what you are looking for into the search box at the top of the page. If you aren't sure what kind of design you would like on your checks, you can browse the categories listed on the side menu to find the perfect checks and accessories for you. Or you can always choose from a number of custom photo check designs and easily upload your own pictures or artwork for truly unique checks. Shopping for check reorders through Girly Checks is easy and fun. Get started now.
In summary, GirlyChecks.com means, "Personal Checks in 1000s of beautiful, cute designs with fast shipping options and no coupons needed for low prices. Cheap checks! Shop now!"
---