Check Categories
Saturday To-Do:
Choose a design or upload your own.


Business Checks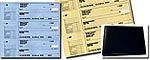 Buy Animal Print Checks Online
Do you like the look of animal fur, textures and prints but not the thought of hurting the animals themselves? Well, you can have all the fun of leopard spots, giraffe prints, tiger stripes and more on your personal checks.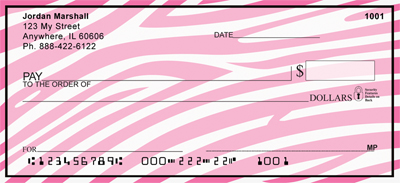 For many years our zebra print checks have always been "best sellers" among our customers. Think Pink (we are Girly Checks after all), like these "Extreme Zebra Prints" as an example of a very popular style.
As a fashion statement, trend-setters today are sporting the bold look of these animal prints in what they wear, in home decor and their choice of personal check designs. Bold colors or the stark look of black and white can really dress up an outfit. Why shoud you choose any less for putting your best look forward on the checks you need? Well, you shouldn't. So, place your order today and strut your stuff every time you write out a check to pay a bill, place an order or give a gift.
Order your new Animal Prints Personal Bank Checks today - so you can express yourself all year long.
Animal Print Checks
---
Pages for this section: 1
---
Buying discounted or cheap Animal Print Checks online does not mean poor quality; we cut out the middle man, the banks, to save you money. You, not your banker, can make decisions about the Animal Prints Personal Bank Checks you buy. Thank you for shopping with Girly Checks.
What's New?
Business Checks