Check Categories
Saturday To-Do:
Choose a design or upload your own.


Business Checks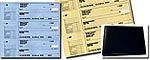 Buy Classic Styles Checks Online
You need checks. Some people use them a lot, some people only use them on occasion, but...you do need them. If all you want your checkbook to do it serve its purpose of paying bills or the occasional daycare cost or expense of school portraits for your children, then perhaps more classic and traditional styles checks are what you will like.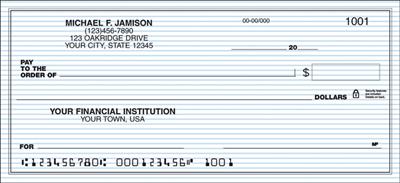 Choose from various colors of Safety Checks such as Blue Safety, Yellow Safety, or Green Safety, or if you want to jazz up the look just a liiiitle bit, there are various colors of Marble Checks as well and a number of other subtle design checks from which to choose.
Pick your favorite from a selection of solid colored checks or checks with slight designs or even monogram checks among these traditionally themed classic checks. And of course, to go with your classic checks you can find traditional checkbook covers and address labels that are perfectly meant to serve their purpose while being clean and classic.
Compare and order your new Tried and True Classic Style Personal Checks today - so you can express yourself all year long.
Classic Styles Checks
---
Pages for this section: 1 2 3 4 5 6 Next >>
---
Buying discounted or cheap Classic Styles Checks online does not mean poor quality; we cut out the middle man, the banks, to save you money. You, not your banker, can make decisions about the Tried and True Classic Style Personal Checks you buy. Thank you for shopping with Girly Checks.
Business Checks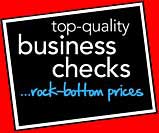 Cheap Checks
w/ Free Shipping