Check Categories
Saturday To-Do:
Choose a design or upload your own.


Business Checks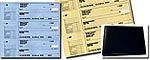 Buy Fantasy and Fairy Checks Online
Is the whimsical world of fantasy and fairies...and gnomes, and dragons, and sorcerers what you desire to have on your checks? If so, you are in the right spot! Check out the large selection of whimsical fairies, scary dragons, magical wizards, unique unicorns, and other fantastic images of fantasy that are on these Fantasy and Fairy checks.

Among the Fantasies and Fairies you will even find some licensed Artists checks such as the Gothlings Checks by Jasmine Becket-Griffith, Magic and Mischief Checks by Amy Brown, and Dragons Checks by Curelo.

Complete your fantasy by selecting matching and coordinating Fantasy and Fairies (and dragons, and wizards, and gothlings, and more) address labels, checkbook covers, debit wallets and other accessories to compliment your checks.
Compare and order your new Fairies and Fantasies Personal Bank Checks today - so you can express yourself all year long.
Fantasy and Fairy Checks
---
Pages for this section: 1 2 Next >>
---
Buying discounted or cheap Fantasy and Fairy Checks online does not mean poor quality; we cut out the middle man, the banks, to save you money. You, not your banker, can make decisions about the Fairies and Fantasies Personal Bank Checks you buy. Thank you for shopping with Girly Checks.
What's New?
Business Checks