Buy Flowers and Plants Checks Online
Stop and smell the roses! Or the sunflowers! How about the irises?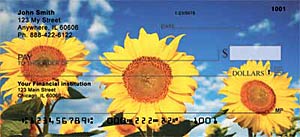 With our custom Girly Checks you can have your favorite flowers right in front of you everytime you write a check. How about it?
I love flowers. I love to grow them. I love to look at them. I love to smell them. And with a set of these custom checks I can look at flowers everytime I write a bill or make a donation. Check out our line of flowers and plants personalized checks. We are sure that you are going to find a coo picture check that's just for you.
How about a sunflower? Just imagine a summer day with lots of sunfloweres growing in the field. We have your sunflower custom checks - designed just for you. And with personalized checks you can pick whatever flower you like. Isn't that great? So go right ahead and plant that garden. While you are at it, pick out the checks that you need - just for you.
Compare and order your new Cool Plants and Pretty Flower Personal Checks today - so you can express yourself all year long.
Flowers and Plants Checks
---
Pages for this section: 1 2 3 4 5 6 7 8 9 10 Next >>
---
Buying discounted or cheap Flowers and Plants Checks online does not mean poor quality; we cut out the middle man, the banks, to save you money. You, not your banker, can make decisions about the Cool Plants and Pretty Flower Personal Checks you buy. Thank you for shopping with Girly Checks.