Buy Inspiring and Uplifting Checks Online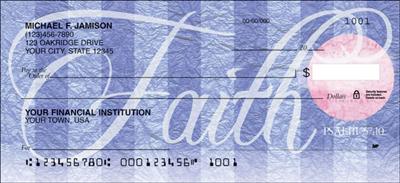 These selections in our many lines of personalized Girly Checks bring to mind "peace" and inspiartional thoughts. Looking at these checks make you feel the uplifted every time you get out your checkbook to pay some bills - or make a donation. You can share that inspirational feeling with others when you make use of these checks with these special images.
Don't forget to include a set of convenient address labels and a coordinating checkbook cover to your order. Order your new checks and accessories today.
Compare and order your new Encouraging and Inspirational Personal Checks today - so you can express yourself all year long.
Inspiring and Uplifting Checks
---
Pages for this section: 1 2 3 4 Next >>
---
Buying discounted or cheap Inspiring and Uplifting Checks online does not mean poor quality; we cut out the middle man, the banks, to save you money. You, not your banker, can make decisions about the Encouraging and Inspirational Personal Checks you buy. Thank you for shopping with Girly Checks.