Buy Music and Dance Checks Online
Likes music and loves to dance!" Does that describe you?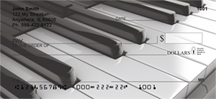 Our personalized Girly Checks will make you want to do just that. Every time you write a check you will be hearing notes in your head and feeling the beat in your feet.
If you play, you've just got to love the piano checks and guitar checks. It makes you want to sit and play, or pick out a tune, every time you write a check to pay a bill. How about dancing? Can I have this dance? Don't wait any longer - take a look at our musical Girly Checks and order your favorite today.
Compare and order your new Rockin' Music and Swingin' Dance Personal Checks today - so you can express yourself all year long.
Music and Dance Checks
---
Pages for this section: 1 2 3 Next >>
---
Buying discounted or cheap Music and Dance Checks online does not mean poor quality; we cut out the middle man, the banks, to save you money. You, not your banker, can make decisions about the Rockin' Music and Swingin' Dance Personal Checks you buy. Thank you for shopping with Girly Checks.