Buy Patriotic America Checks Online
From sea to shining sea with our personalized Girly Checks. Just looking at these checks makes one think about traveling our vast country and seeing these sights.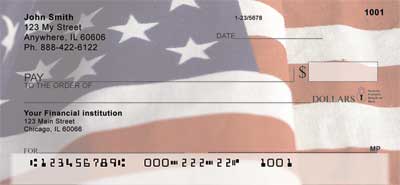 Love your Country! Show your pride! You can do that with our persoanl Girly Checks with these patriotic images on your bank checks. We have Girly Checks that showcase our country. You can have Girly Checks that highlight the symbols of America - the ones that mean something to you. Remember those symbols that we grew up with as they instilled our pride in America? Now you can share that pride each and every time you write a check. Who doesn't love fireworks? Well we have checks for fireworks lovers, too - as we celebrate the Fourth of July and commemorate other events.
Fireworks Girly Checks are a personal favorite. Remember all the times you watched fireworks? Just imagine the LOUD noise as you can't wait to see what colors explode overhead while you stand there watching. Take a look at our fireworks checks; we just know you will like them (and all of our other custom checks as well).
Compare and order your new American Patriotism Personal Checks today - so you can express yourself all year long.
Patriotic America Checks
---
Pages for this section: 1 2 3 4 5 Next >>
---
Buying discounted or cheap Patriotic America Checks online does not mean poor quality; we cut out the middle man, the banks, to save you money. You, not your banker, can make decisions about the American Patriotism Personal Checks you buy. Thank you for shopping with Girly Checks.