Buy Religious and Church Checks Online
If you find that looking at churches is calming and uplifting then we have custom image checks for you.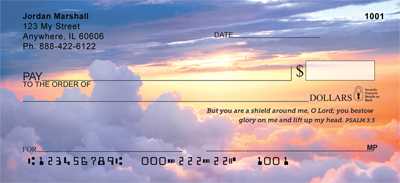 You can't help but feel peaceful when you look at our religious-themed personalized checks. Juvst check out the beauty of the scenery of this series of religious checks. We know you will love them. We do.
Like to drive by little country churches. or do you like to look at soaring cathedrals. Now you can every time you write a check. Make sure you take some time to look at these unique checks.
Compare and order your new Faithful Church and Religion Personal Checks today - so you can express yourself all year long.
Religious and Church Checks
---
Pages for this section: 1 2 3 4 5 6 Next >>
---
Buying discounted or cheap Religious and Church Checks online does not mean poor quality; we cut out the middle man, the banks, to save you money. You, not your banker, can make decisions about the Faithful Church and Religion Personal Checks you buy. Thank you for shopping with Girly Checks.